Top 7 reasons for your business to change to solar energy now with Airis
Solar panels used to be a common sight mainly only on mobile homes, offering a low voltage output to power a few 12V lights, a radio and
perhaps a small TV. With the development of more affordable and durable solar technology, it has become increasingly popular for homeowners and commercial buildings. Designers even incorporate solar panels as part of the design of a building, making them a prominent feature rather than trying to hide them.
The technology is constantly being developed so that more businesses can benefit from solar energy. And what makes more sense in the sunny south than switching to solar panels? Not only will the addition of panels save money for your business, but they will also make a solid and visible environmental statement. 
Some may still associate solar panels with looking ugly and clunky, but with the new developments, they could actually enhance the features of your building, making it more attractive to both customers and business associates. Adding solar panels could even increase the building's, and consequently the business' value, both aesthetically and financially.

Below we list the top 7 reasons for going solar with Airis. Why Airis? Read on and find out.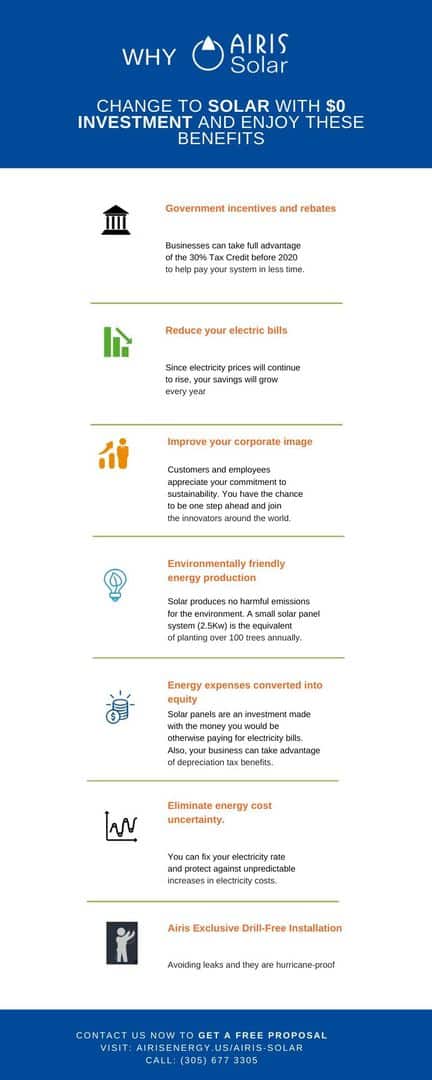 If these 7 reasons convinced you of going solar with Airis, why not contact us already today to find out what we can do for your business? If you need more time, consider signing up for our monthly newsletter and receive more information and reminders of how you can save more money for your business by changing going solar and changing to LED with Airis.
At Airis Energy, we can help your business go solar with zero investment and start saving up to 50% from day one.  Contact us today to discuss how we can help you go solar. 

Ready to go solar? Sign up here to get a free proposal