Benefits of commercial warehouse LED lights
There are several components to take into consideration when running a busy warehouse or distribution center. Having energy-efficient warehouse lighting can present several benefits, especially when it comes to energy efficiency and daily running costs. In fact, replacing your old fixtures and traditional lighting with Airis LED is not only the way hundreds of companies working for a brighter future have chosen to go, but there is also the advantage of avoiding the challenges of maintenance and replacement that fall on us. 
In today's post, we will emphasize the benefits of LED lighting for warehouse, including an explanation of what LED lighting is and how you can team up with us to achieve your goals.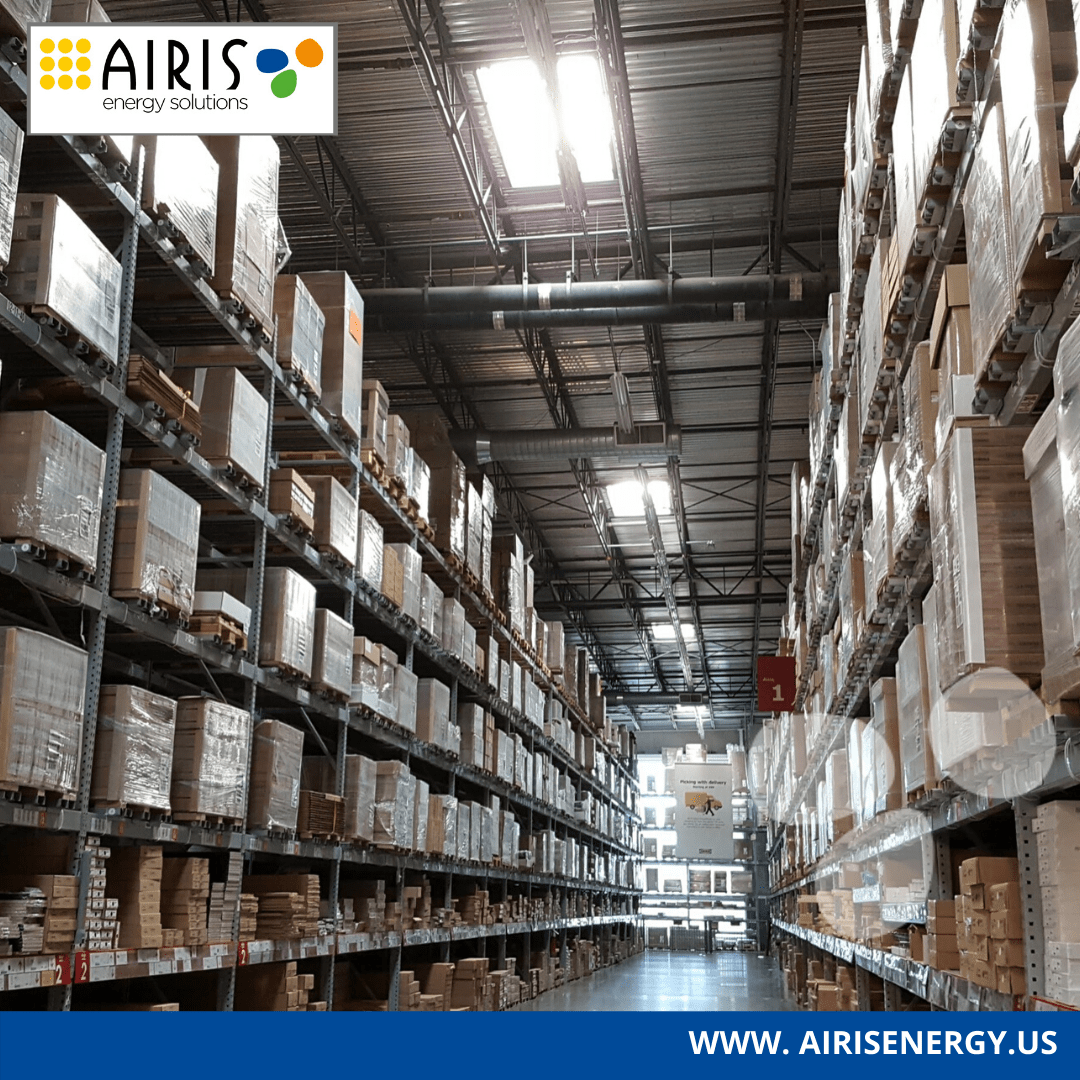 What is LED lighting and why choose Airis LED
LED lighting produces light by directly converting electricity to light. In addition, it emits more lumens per watt than incandescent light bulbs, resulting in energy savings. If you want to learn more about the benefits of using LED bulbs not only for businesses but also for the environment, visit http://ow.ly/eWxo50v5qYn
Upgrading from traditional light bulbs to LED lights will result in lower energy consumption, CO2 reductions, and a general improvement of the working environment in the workplace. 
Why Airis LED you may ask?
Airis Energy Solutions – the creators of Airis LED, and global leaders in the lighting technology industry – provide commercial LED upgrades to business owners working for a brighter future. Businesses can upgrade to Airis LED Lighting solutions for warehouse or workplace with zero investment to enjoy quality lighting with the longest lifespan, industry-leading efficiency, and zero replacement costs.
Top benefits of warehouse LED Lighting
Let's look at some of the top benefits that a warehouse will enjoy by upgrading from fluorescent, halogen or metal halide lighting to high-quality Airis warehouse LED lighting.
Carbon Footprint
As the number of business owners that work together with Airis LED to create a brighter future increase, the number of old, traditional lighting and light fixtures is reduced. By upgrading to high quality and long-lasting LED lighting, you can reduce your carbon footprint. LED lights contain no polluting gases, no mercury and are lead-free. LED lights have carbon emissions of 514 lbs of CO2 per year, this is rather low compared to the emissions of incandescent bulbs. In sum, when you upgrade to quality lighting you will not only enjoy energy savings but will reduce your carbon footprint as well. 
Health and Safety
When it comes to warehouses, if you have dim, flickering, or burnt lights you could be putting your staff at risk. By upgrading to Airis LED you will comply with OSHA standards, as well as ensure that lighting levels increase. This, in turn, will provide even illumination across the warehouse or factory floor giving better visibility and eliminating shadows or dark areas. You will reduce the risks of accidents, providing your employees with a safer and more pleasant working area.   
Highest industry-leading efficiency
Making sure that your staff is efficient and reducing errors is of paramount importance in a warehouse or distribution center. The costs of handling mistakes can be high if they are happening often. By upgrading to Airis LED in your warehouse you will get LEDs with the longest lifespan and industry-leading efficiency which will result in your employees having better light to work with products, pay more attention to detail and reduce errors which in turn will reduce your operation costs. 
Other benefits of AIRIS LED include:
Better light quality – no infrared, no ultraviolet, and no flickering.
Use up to 90% less electricity
60%-90% less heat emission – LED lights have lower heat output, as a result, your warehouse will stay cooler, you will save on AC and also lower the risk of a fire.
75,000 hours –  LED lights will last a total of 75.000 hours, compared to incandescent bulbs which last only 1,000 hours, and compact fluorescent bulbs which last 8.000 hours.  
Zero maintenance and replacement costs
How can you join over 1000 businesses working together with Airis Energy Solutions for a brighter future?
We offer business owners an upgrade to Airis LED with zero investment and payments based on a portion of their electricity savings. More information can be found at / 
In addition, we are a single supply chain solution. We supply the lights and do all the installation. This means that our experts will help you find fixtures, light temperature/color, and all for your lighting project.
At  Airis Energy Solutions, we will find the best-LED lighting solutions for your warehouse. You can register here to read our Best Case Study, learn about our Airis Skylight design panels and get our latest blog posts directly in your inbox.